Every Day Specials
Hamburger, Cheeseburger, Corndog, or Burrito. These specials include your choice of a regular French Fry or Tater Tots, and a medium soft drink.We also offer every day Kid's Meals, which comes with a Kid Hamburger, Burrito, or Corndog. These inlude a kid French Fry and a small soft drink.
Try our home specialties
We offer the Baby Hog Burger and the Hog Burger.
The Baby Hog burger is our Cheeseburger with a slice of fried ham. The Hog burger, which is a larger version of the Baby Hog burger, is a double-cheeseburger with two slices of fried ham.
We offer the Bruiser Burger and the Bruiser Cheese Burger
The Bruiser Burger is our own triple-burger. The Bruiser Cheeseburger, is our own triple-burger, which has three pieces of cheese.
We offer Chicken, Fish, Chef Salad, and our unique Grilled Hotdogs
On the lighter side, or for a sweet tooth.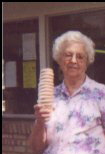 We have soft served ice cream cones( try our large's! ), and ice cream filled cups.
We have old fashion float's, soda's, and sundae's.
We have milkshakes and malts of multiple flavors.